What is Video Remote Interpreting?
Video remote interpreting (VRI) involves the use of video conferencing equipment or simply a laptop equipped with a webcam to transmit video and audio signals through high-speed Internet connections or ISDN lines. This allows a deaf or hard-of-hearing person to access an American Sign Language interpreter in a remote location.
Our VRI interpretation services are HIPAA-compliant, cloud-based and come with a user-friendly interface so office staff can quickly set-up appointments. For more information, please visit our corporate site here.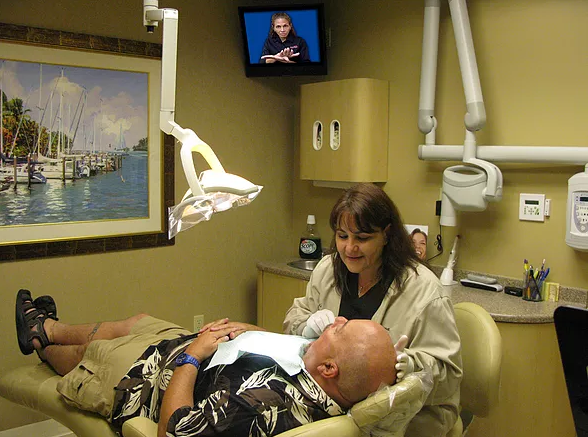 Contact Us
*If at any time the Deaf or Hard-of-Hearing person determines that VRI does not provide effective communication, the Americans with Disabilities Act (ADA) allows the person to decline VRI in favor of an on-site interpreter.
Can VRI Be Used Every Time We Need An Interpreter?
Video remote interpreting can be an excellent alternative when it is not possible to have a qualified interpreter on-site; however, VRI may not be the most appropriate option under certain circumstances including (but not limited to):
Situations involving minors
Situations in which a person is heavily medicated, intoxicated or injured
When working with someone who has poor vision, or an injury that compromises his/her ability to view the screen
Discussions regarding particularly sensitive information
Discussions that are highly technical in nature
Situations involving movement between multiple locations
Situations occurring in areas with poor lighting
Noisy Environments
Situations involving people from another country who do not use American Sign Language
*In the event, one or more of the above circumstances apply to your situation,  you may want to consider an on-site sign language interpreter instead.
VRI can be a convenient, efficient, and cost-effective way to provide sign language interpreting services under the right circumstances. It is very important to consider a variety of factors before deciding to use VRI. Consult the deaf or hard-of-hearing consumer to determine whether or not VRI would be a viable and appropriate option for use with him or her. It is always best to have a backup plan allowing you to quickly secure an on-site interpreter, in the event VRI is not providing effective communication, or if VRI suddenly becomes unavailable due to technology failure or connection issues.
What are the Benefits of Using Video Remote Interpretation?
Some of the benefits include:
On-demand access to qualified American Sign Language interpreters
Access to interpreters when on-site interpreters are not available
Access to a larger pool of qualified and certified interpreters
Cost-effective when used appropriately
Available for last-minute or unexpected interpreting needs
Available if you determine the on-site interpreter is not qualified for the assignment
How or Where can VRI be used?
VRI can be used in a variety of settings including (but not limited to):
Job Interviews
Employee Orientation/Training
Staff/Department Meetings
Classroom Instruction
Employee/Supervisor Meetings
Tutoring
Doctor's Offices
Emergency Rooms
Hospitals
Health Education Classes
Police Stations
Social Service Appointments
Client Meetings
Board Meetings
Conferences
…and many more!